Quality Control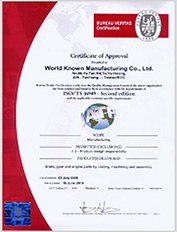 WKM is an ISO/TS 16949 certified company since 2002. Our APQP team members are familiar with the core tools of APQP, PPAP, SPC, MSA, FMEA along with 8D problem solving.
APQP ( Advanced Product Quality Planning)
FMEA(Failure Mode and Effects Analysis)
MSA(Measurement System Analysis)
SPC(Statistical process control)
PPAP(Production Parts Approval Process)
As the leading manufacturer of cast iron, it is the policy of WKM to ensure that the quality of all products manufactured meets or exceeds customer expectations.
Main Equipments for Quality Assurance (Taiwan)

Set

1
CE Meter
2
2
Optical Spectrum Analyzer
1
3
Sand Testing Device
1
4
Sandcore Analyzer for gas emit ratio & melting point
1
5
Metallurgical Microscope
2
6
Ultrasonic Tester for NDT & Nodularity (Olympus)
1
7
Brinell Hardness Tester (HB)
2
8
Rockwell Hardness Tester (HRC)
1
9
Universal Testing Machine
1
10
CMM Coordinate Measuring Machine
3
(1*Zeiss, Germany, 1*Global, USA, 1*Mitutoyo, Japan )
11
Profile Projector

1
12
Surface Roughness Measurement (Hommel, Germany)
1
13
Cleanness Tester
1
14
Surface Profilometer 
1